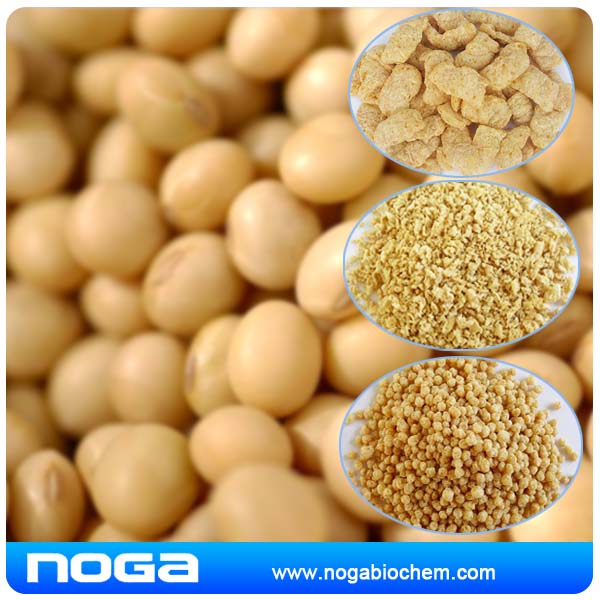 Textured Soy Protein
Other name:TSP,TVP
Quality standard:GBV
CAS NO.:590-46-5
HS CODE:35040090
M.F.:
Specification:50%,70%,90%
Appearance:Yellow granular or colored shaped
Description
Textured soy protein is made from high quality NON-GMO China-originated soybean, and produced through Peel, degrease, extraction, expanding, high-temperature&high-press. It's widely used in the processing of fast-frozen foods & meat products.Textured soy protein has very good water and oil holding capacity, instant rehydration ability,good fibrous structure and toughness, better taste of meat. And it's organized well and non-breakable after a long time soak in the water.

Specifications:

Item
Textured soy protein
Ingredient target

Project
Standard
Crude protein(*6.25)(%)
Min:50.0
Water(%)
Max:10.0
Crude fat(%)
Max:1.0
Thick ash(%)
Max:8.0
Crude fiber(%)
Max:5.0
Microorganism target
Total plate count(cfu/g)
≤30000
Esherichia coli(MPN/100g)
≤30
Salmonella
Negative
Bacteria
Non
Storage
Stores up under dry and cool condition. The temperature should be lower
than 28 ℃; the relative humidity should be not bigger than 65%,
and the shelf life is 12 months
Other
This product's initial raw material is the NON-GMO high quality soybeans
Usage:
1) It is used non fat soybean meal as main materials to produce all kinds of soybean protein food and vegetarian meat nutritionals and easily absorbed by human body.
2) The textured protein is like muscle and has the sense of mastication.
3) Textured soybean protein is widely applied to many industries. such as can,seasoning,ham,meat,cooking etc.
Packing:20kg per bag 1x20fcl=13mt
Shelf life:1years
Storage:Store in a cool, dry, ventilated environment.
Advantage on this item: first class factory, quality good, price very competitive.
Packing photos: