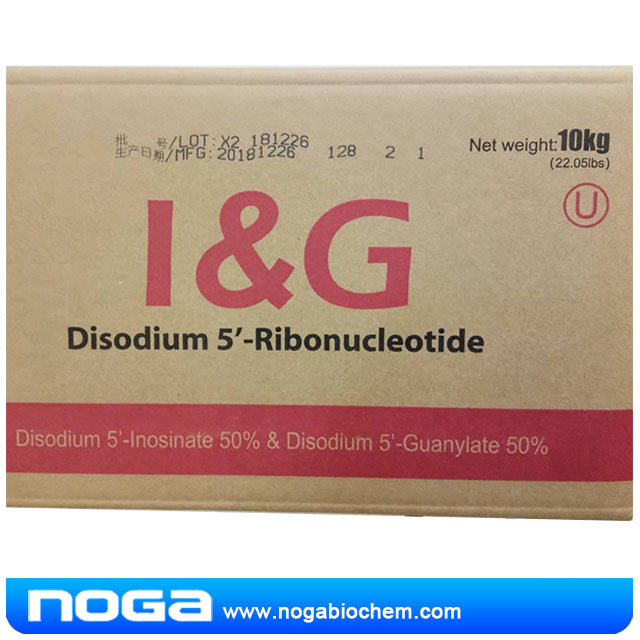 Disodium 5'-Ribonucleotide
Other name:I+G (IMP&GMP)
Quality standard:GB1886.171
CAS NO.:4691-65-0
HS CODE:3824999970
M.F.:C10H11N4Na2O8P
Specification:Food grade / Feed grade
Appearance:White crystalline powder
Description
Disodium 5'-Ribonucleotide (I+G) is a new generation of nucleotide food. It can be added directly to the food, play a role in increasing the fresh. It's more economical and best flavor enhancer, It's mainly one of taste components for instant noodle seasoning packet, condiments such as chicken essence, chicken powder and fresh-added soy sauce; If mixed use with monosodium glutamate (MSG), with the dosage about 2% to 5%, that creates the effect known as "a strong MSG"; In addition, the product also has a certain therapeutic effect on the migration of hepatitis, chronic hepatitis, progressive muscle atrophy and various eye diseases. Moreover, it inhibits the food salty, bitter, sour and other undesirable odor, and can reduce the odor (amino acid, flour, etc.). Finally, it has a good solubility and stability in the product.
Specifications:

| | |
| --- | --- |
| Item | Standard |
| Assay(IMP+GMP)(%) | 97.0~102.0 |
| Loss on Drying(%) | ≤25.00 |
| IMP (%) | 48.0~52.0 |
| GMP(%) | 48.0~52.0 |
| Transmittance(%) | ≥95.0 |
| PH (5% water solution) | 7.0~8.5 |
| Heavy metals(as Pb)(mg/kg) | ≤10 |
| Arsenic(mg/kg) | ≤1.0 |
| Amino acid | Solution appear colorless |
| NH4 (Ammonium) | Color of litmus paper unchanged |
| Other related compounds of nucleicacid | Not detectable |
Usage:It is widely used in instant noodle seasoning packet, condiments such as chicken essence, chicken powder and fresh-added soy sauce.
Packing:10kg per carton, 1x20fcl=14mt or 12mt with 20pallets.
Shelf life:2years
Storage:Store in a cool, dry, ventilated environment.
Advantage on this item: biggest factory in Asia, quality good, price very competitive.