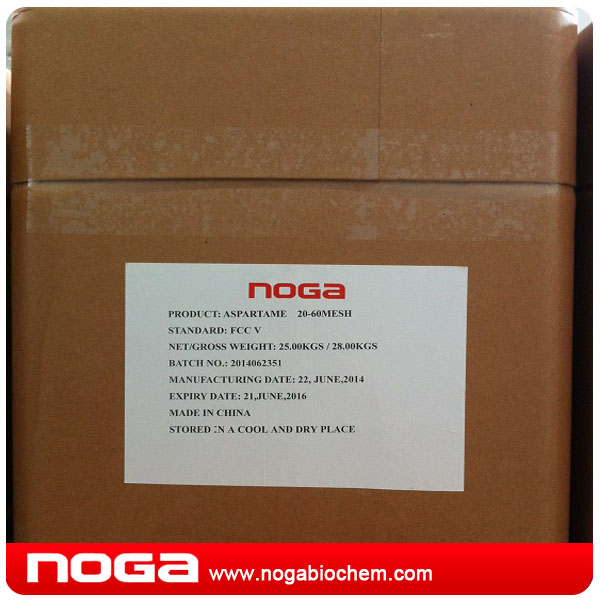 Aspartame
Other name:L-Aspartyl-L-phenylalaninemethyl ester
Quality standard:FCCIV / USP32 / E951
CAS NO.:22839-47-0
HS CODE:29242930
M.F.:C14H18N205
Specification:Granular: 20-60mesh,60-100mesh / Powder: 100mesh 150mesh,300mesh
Appearance:White Granular or Powder
Description
Aspartame is a new-style intense sweetener of amino acid. It is a dipeptide compound composed by l-aspartic acid and l-phenylalanine. It has no after taste such as bitter, chemical and metal taste. Aspartame can enhance the flavor of fruit and reduce the bitterness of coffee. Futhermore, aspartame can decrease calories effectively, and it will not cause decayed tooth. Aspartame has the same metabolic mechanism as protein.
Aspartame has many advantages such as good flavor, intense sweetness, low calories and high safety. It is widely used in carbonated beverage, jam, instant coffee, frozen milk products, chewing gum, sweetmeat, salad dressing. Aspartame also can be made into different forms, such as granule, troche, powder or liquor, and used as the substitution of saccharose into normal sweetmeats which adapt to diabetes and adiposis sufferers.
Specifications:
| | |
| --- | --- |
| Appearance | White crystalline powder |
| Assay(on dry basis) | 98.0%~102.0% |
| Specific Rotation[α]D20º | +14.5 º ~ +16.5º |
| Loss on Drying | ≤ 4.5% |
| Residue on Ignition | ≤ 0.2% |
| Heavy Metals(as Pb) | ≤ 10ppm |
| PH | 4.5~6.0 |
| Transmittance | ≥ 0.95 |
| Arsenic | ≤ 3ppm |
| Lead | ≤ 1ppm |
| 5-Benzyl-3,6-dioxo-2-Piperazineacetic Acid | ≤ 1.5% |
| Other Related Substances | ≤ 2.0% |
| L-a-Aspartyl-L-Phenylalanine | ≤ 0.25% |
| L-Phenylalanine | ≤ 0.5% |
| Total Aerobic Bacteria | < 250 cfu/gram |
| Yeast and Moulds | < 100 cfu/gram |
| Coliforms | < 10 cfu/gram |
| E.coli | Negative |
| Salmonella | Negative |
| Particle size | 20-60mesh,100mesh,200mesh,300mesh |
Usage:Beverage: carbonated and still soft drink, fruit-juice and fruit syrup, yoghurt and etc. Food: hot and cold chocolate and beverage mixes and instant dessert, frozen novelt and dessert,chewing gum, boiled sweet, mint,chocolate, gum and jelly and etc.Pharmaceutical: tablet, sugar-free syrup, powdered mix and effervescent tablet and etc.
Packing:25kg per fibre drum, 1x20fcl=13.5mt for granular, or 9mt for powder.
Shelf life:2years
Storage:Store in a cool, dry, ventilated environment.
Advantage on this item:best quality in China, price very competitive.
Packing photos: