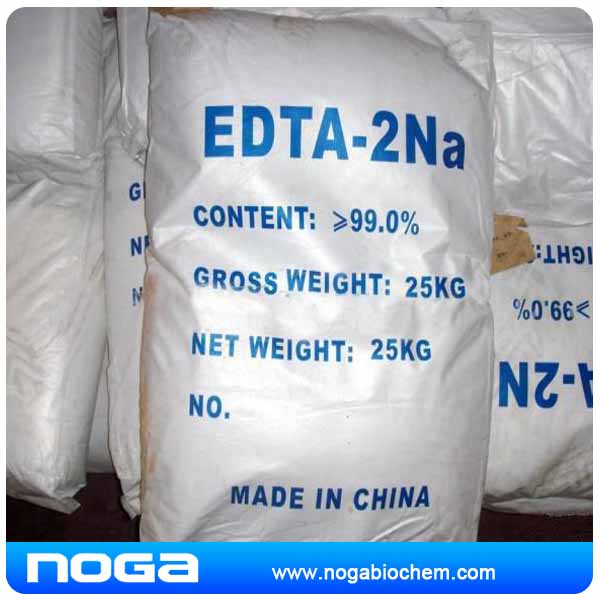 EDTA 2NA
Other name:Ethylene Diamine Tetraacetic Acid Disodium salt
Quality standard:Q/24SJK02-2009 Quality standard
CAS NO.:6381-92-6
HS CODE:29224999
M.F.:C10H14N2O8Na2-2H2O
Specification:Food grade,Industry grade
Appearance:White powder
Description
Ethylene Diamine Tetraacetic Acid Disodium salt is an important complexing agent for complexing metal ions and metal separation, this product is used as a color photographic materials bleach-fixing processing, and dyeing auxiliaries, fiber treatment agents, cosmetic additives , medicine, food, agriculture chemical trace fertilizer production,
Specifications: Food Grade


Appearance
White or off-white crystalline granular or powder
Assay (EDTA-4Na)
≥99.5%
Chlorides
≤0.01%
Sulfates
≤0.03%
NTA
≤0.1%
Heavy Metals (as Pb)
≤10ppm max
Ferrum
≤10ppm max
Chelation value mg(CaCO3)/g
≥265 min
PH ( 50g/L 25'C)
4.0-5.0
Transparency (50g/L, 60'C water solution,
stirring for 15min)
Clear and Transparent without Impurities
Usage:Ethylene Diamine Tetraacetic Acid Disodium salt is an important complexing agent for complexing metal ions and metal separation, this product is used as a color photographic materials bleach-fixing processing, and dyeing auxiliaries, fiber treatment agents, cosmetic additives , medicine, food, agriculture chemical trace fertilizer production, blood anticoagulant, complexing agents, detergents, stabilizers, synthetic rubber, a polymerization initiator and heavy metal quantitative analysis agent. In the reduction with a chlorinating SBR polymerization initiator system, EDTA disodium, as an integral part of an active agent, mainly for complexing iron ions, to control the polymerization reaction rate.
Packing:25kg kraft bag, 1x20fcl=22mt.
Shelf life:1years
Storage:Store in a cool, dry, ventilated environment.
Advantage on this item:big capacity, first class factory, quality good, price very competitive.
Packing photos: